Teaching with Drumometer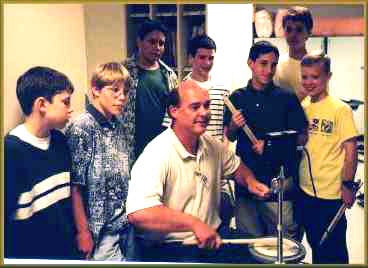 Drum Instructor, Allen Gentry, uses the Drumometer to coach drum students at Robinson Middle School in Kingsport, TN.
Knowledge is nothing more than the breaking down of barriers. No matter what endeavors one may undertake, it is the journey, not the destination, from which we learn the most. When great explorers embark on a journey, they know that there are certain instruments that they will need to make their desired destination. Music, in and of itself, is a wonderful journey, and it too requires the right instruments or tools to reach the desired goals. The Drumometer is one of those instruments.
Monitoring Progress with Drumometer
Percussion students at Belmont University using the Drumometer
The Drumometer along with The Progress Report gives any student one of the most important tools he/she needs to reach his/her own musical destination. Naturally, a drummer's ability and musicianship are not gauged by speed alone; however, muscle and stick control can be measured by the Drumometer and progress can be quantified and guided into productive practice techniques.
The speed and technique gained are just means to an end - the end being the confidence, joy and freedom that a student receives from breaking down and going past what seemed to be unattainable goals. This is what education and music are all about.