WFD Official T-Shirts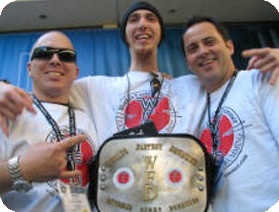 100% Cotton shirt featuring the WFD Logo on the front in it's classic red color. Available in sizes: Small, Medium, Large & Extra Large.
*Please note the sizes are unisex, please choose accordingly as women may prefer a smaller size.
SALE PRICE: $9.99

+Shipping & Handling

To complete your purchase select from the buttons below.


*For shipping calculation purposes:
Please make your selection according to the country you are shipping the purchase to.

All Other Countries

Canada & Mexico

United States
---
---
Wrist Support Straps
These high quality wrist support straps produced by NewGrip take the punishment and spare your hands and wrists. They feature fully adjustable size adjustment, tension control for stable yet flexibility when worn. They are built to absorb vibration for an overall improvement in ability to perform.


The straps are made out of 100% smooth woven cotton and all metal nickel plated loop. They are extremely durable, even virtually indestructable, yet remain completley comfortable when worn. Each pair is individually sewn in the USA to ensure product quality is the finest.
Wrist Support Straps - Sizing Information:

Sizes by Wrist Circumference
Small: Under 5.75"
Medium: 5.75" to 7"
Large: Over 7"
SALE PRICE: $15.99

+Shipping & Handling

To complete your purchase select from the buttons below.


*For shipping calculation purposes:
Please make your selection according to the country you are shipping the purchase to.

All Other Countries

Canada & Mexico

United States